Exhibit 99.1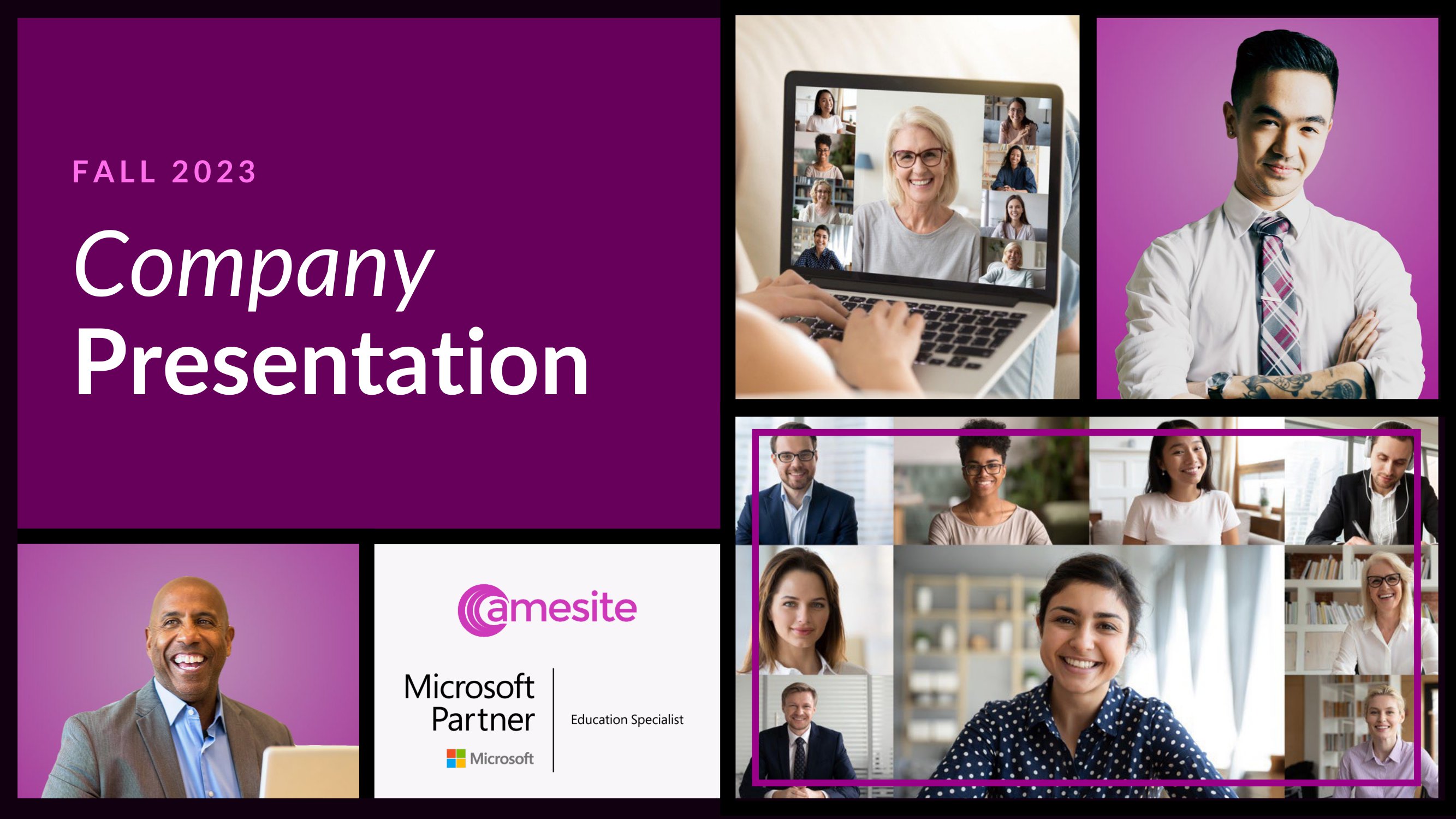 Presentation F AL L 2023 Company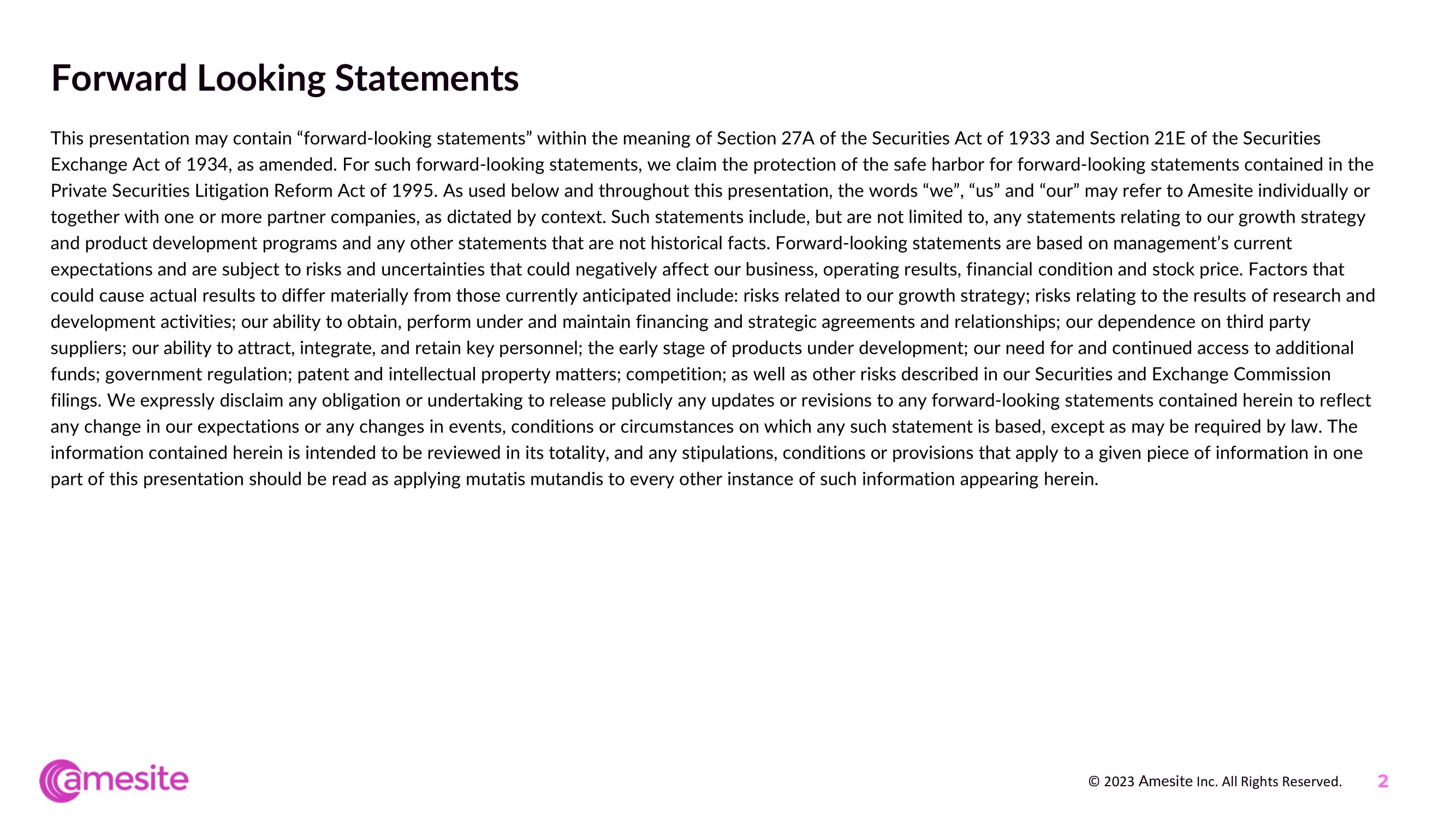 2 Forward Looking Statements This presentation may contain "forward - looking statements" within the meaning of Section 27A of the Securities Act of 1933 and Section 21E of the Securities Exchange Act of 1934, as amended. For such forward - looking statements, we claim the protection of the safe harbor for forward - looking statements contained in the Private Securities Litigation Reform Act of 1995. As used below and throughout this presentation, the words "we", "us" and "our" may refer to Amesite individually or together with one or more partner companies, as dictated by context. Such statements include, but are not limited to, any statements relating to our growth strategy and product development programs and any other statements that are not historical facts. Forward - looking statements are based on management's current expectations and are subject to risks and uncertainties that could negatively affect our business, operating results, financial condition and stock price. Factors that could cause actual results to differ materially from those currently anticipated include: risks related to our growth strategy; risks relating to the results of research and development activities; our ability to obtain, perform under and maintain financing and strategic agreements and relationships; our dependence on third party suppliers; our ability to attract, integrate, and retain key personnel; the early stage of products under development; our need for and continued access to additional funds; government regulation; patent and intellectual property matters; competition; as well as other risks described in our Securities and Exchange Commission filings. We expressly disclaim any obligation or undertaking to release publicly any updates or revisions to any forward - looking statements contained herein to reflect any change in our expectations or any changes in events, conditions or circumstances on which any such statement is based, except as may be required by law. The information contained herein is intended to be reviewed in its totality, and any stipulations, conditions or provisions that apply to a given piece of information in one part of this presentation should be read as applying mutatis mutandis to every other instance of such information appearing herein. © 2023 Amesite Inc. All Rights Reserved.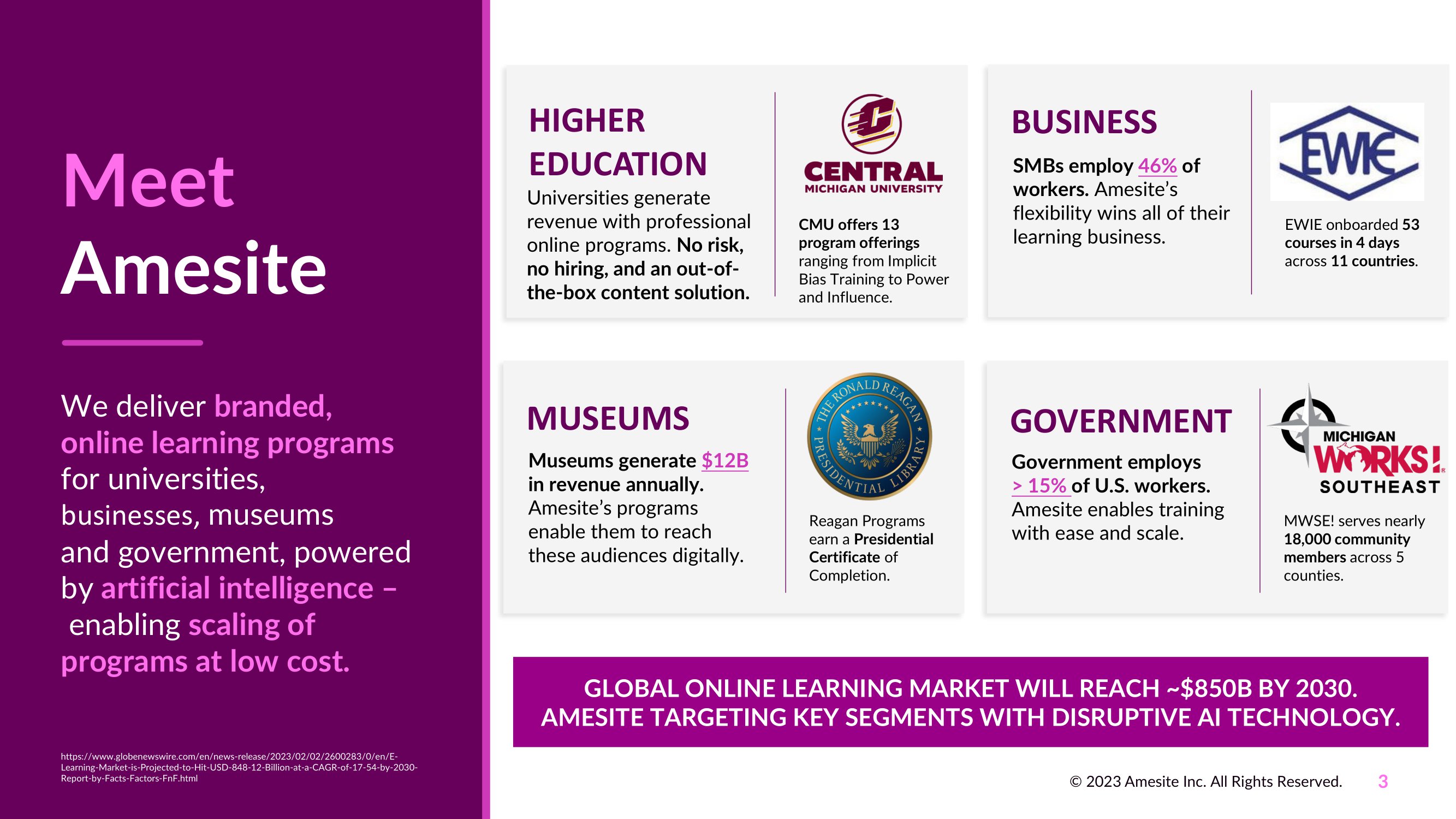 Meet Amesite We deliver branded, online learning programs for universities, businesses, museums and government, powered by artificial intelligence – enabling scaling of programs at low cost. https:// www.globenewswire.com/en/news - release/2023/02/02/2600283/0/en/E - Learning - Market - is - Projected - to - Hit - USD - 848 - 12 - Billion - at - a - CAGR - of - 17 - 54 - by - 2030 - Report - by - Facts - Factors - FnF.html © 2023 Amesite Inc. All Rights Reserved. 3 GLOBAL ONLINE LEARNING MARKET WILL REACH ~$850B BY 2030. AMESITE TARGETING KEY SEGMENTS WITH DISRUPTIVE AI TECHNOLOGY. BUSINESS SMBs employ 46% of workers. Amesite's flexibility wins all of their learning business. EWIE onboarded 53 courses in 4 days across 11 countries . HIGHER EDUCATION Universities generate revenue with professional online programs. No risk, no hiring, and an out - of - the - box content solution. CMU offers 13 program offerings ranging from Implicit Bias Training to Power and Influence. GOVERNMENT Government employs > 15% of U.S. workers. Amesite enables training with ease and scale. MWSE! serves nearly 18,000 community members across 5 counties. MUSEUMS Museums generate $12B in revenue annually. Amesite's programs enable them to reach these audiences digitally. Reagan Programs earn a Presidential Certificate of Completion.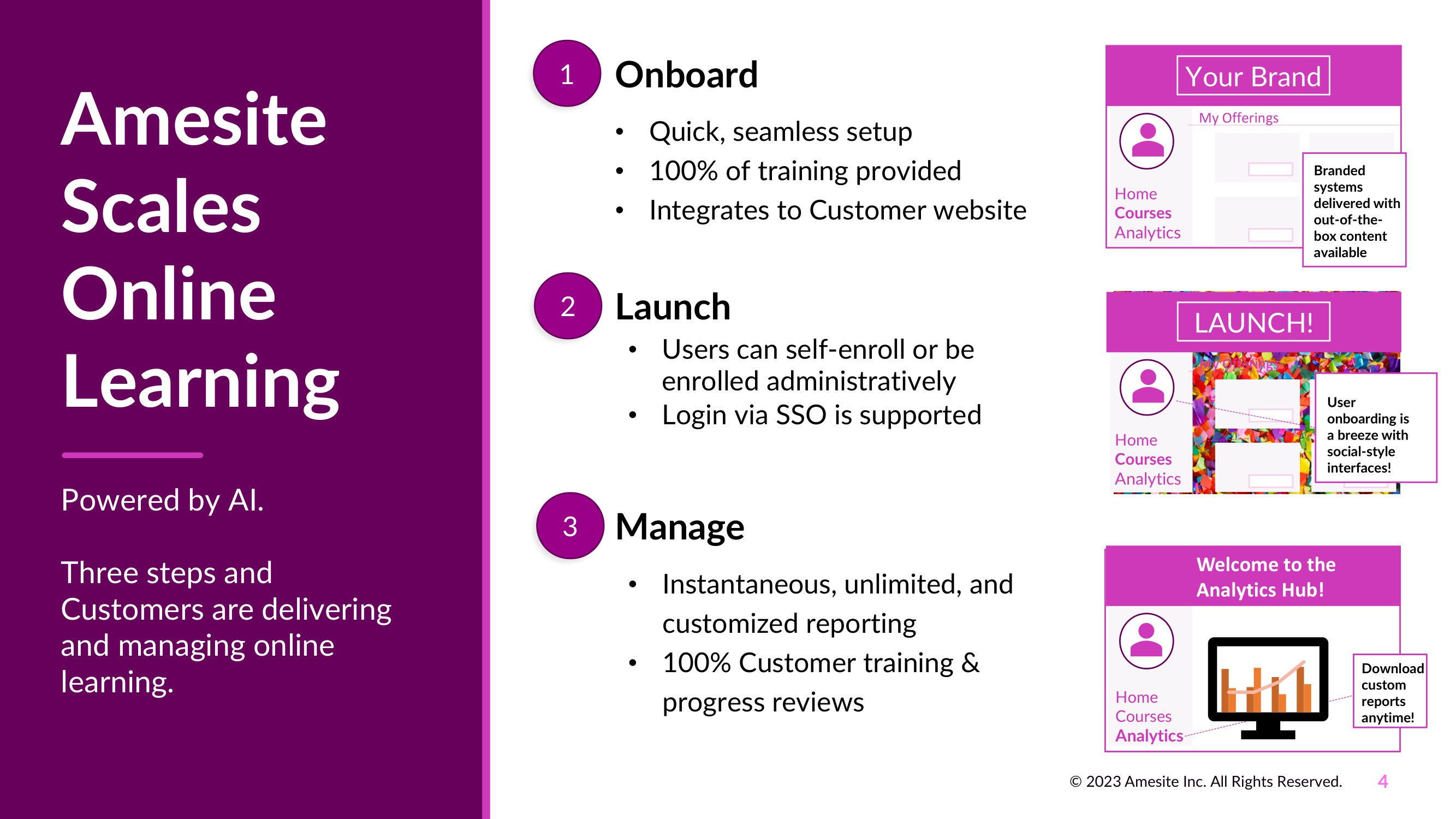 Amesite Scales Online Learning Powered by AI. Three steps and Customers are delivering and managing online learning. 1 Onboard 2 Launch 3 Manage • Quick, seamless setup • 100% of training provided • Integrates to Customer website • Instantaneous, unlimited, and customized reporting • 100% Customer training & progress reviews • Users can self - enroll or be enrolled administratively • Login via SSO is supported Home Courses Analytics Your Brand Home Courses Analytics Welcome to the Analytics Hub! My Offerings Download custom reports anytime! Home Courses Analytics LAUNCH! My Offerings User onboarding is a breeze with social - style interfaces! © 2023 Amesite Inc. All Rights Reserved. 4 Branded systems delivered with out - of - the - box content available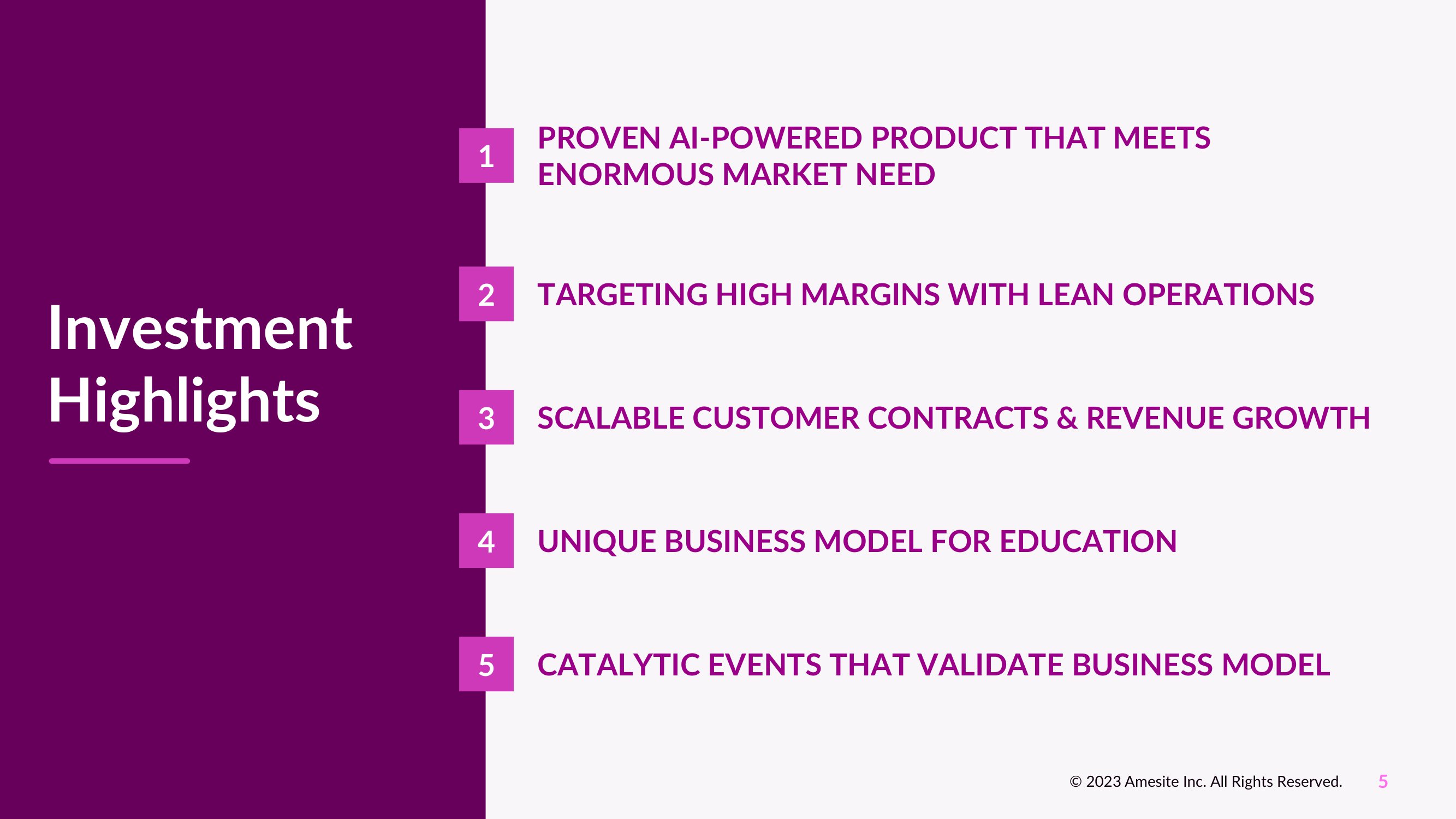 Investment Highlights 1 © 2023 Amesite Inc. All Rights Reserved. 5 PROVEN AI - POWERED PRODUCT THAT MEETS ENORMOUS MARKET NEED 2 TARGETING HIGH MARGINS WITH LEAN OPERATIONS 3 SCALABLE CUSTOMER CONTRACTS & REVENUE GROWTH 5 CATALYTIC EVENTS THAT VALIDATE BUSINESS MODEL 4 UNIQUE BUSINESS MODEL FOR EDUCATION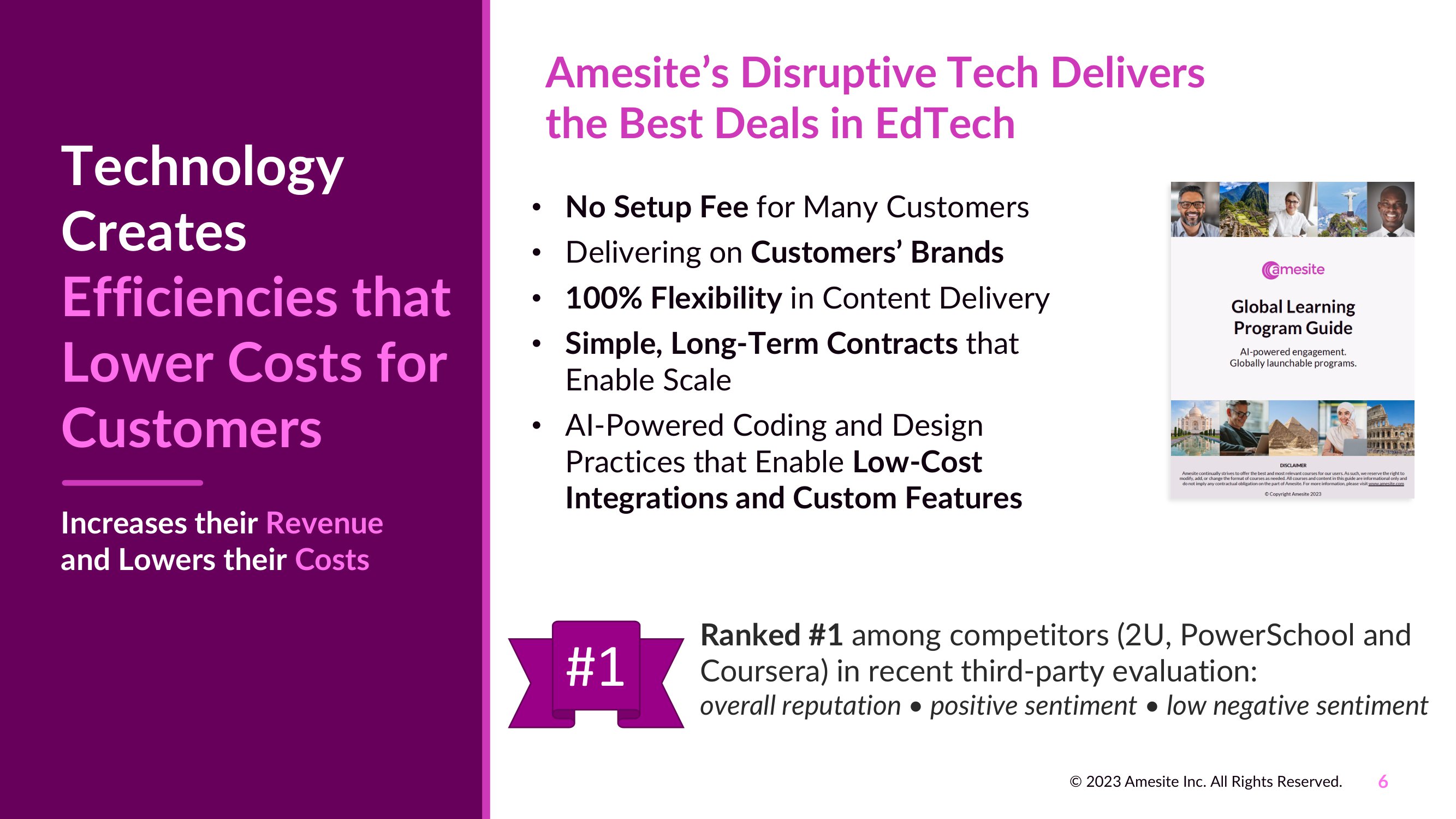 Technology Creates Efficiencies that Lower Costs for Customers Increases their Revenue and Lowers their Costs Amesite's Disruptive Tech Delivers the Best Deals in EdTech • No Setup Fee for Many Customers • Delivering on Customers' Brands • 100% Flexibility in Content Delivery • Simple, Long - Term Contracts that Enable Scale • AI - Powered Coding and Design Practices that Enable Low - Cost Integrations and Custom Features Ranked #1 among competitors (2U, PowerSchool and Coursera) in recent third - party evaluation: overall reputation • positive sentiment • low negative sentiment #1 © 2023 Amesite Inc. All Rights Reserved. 6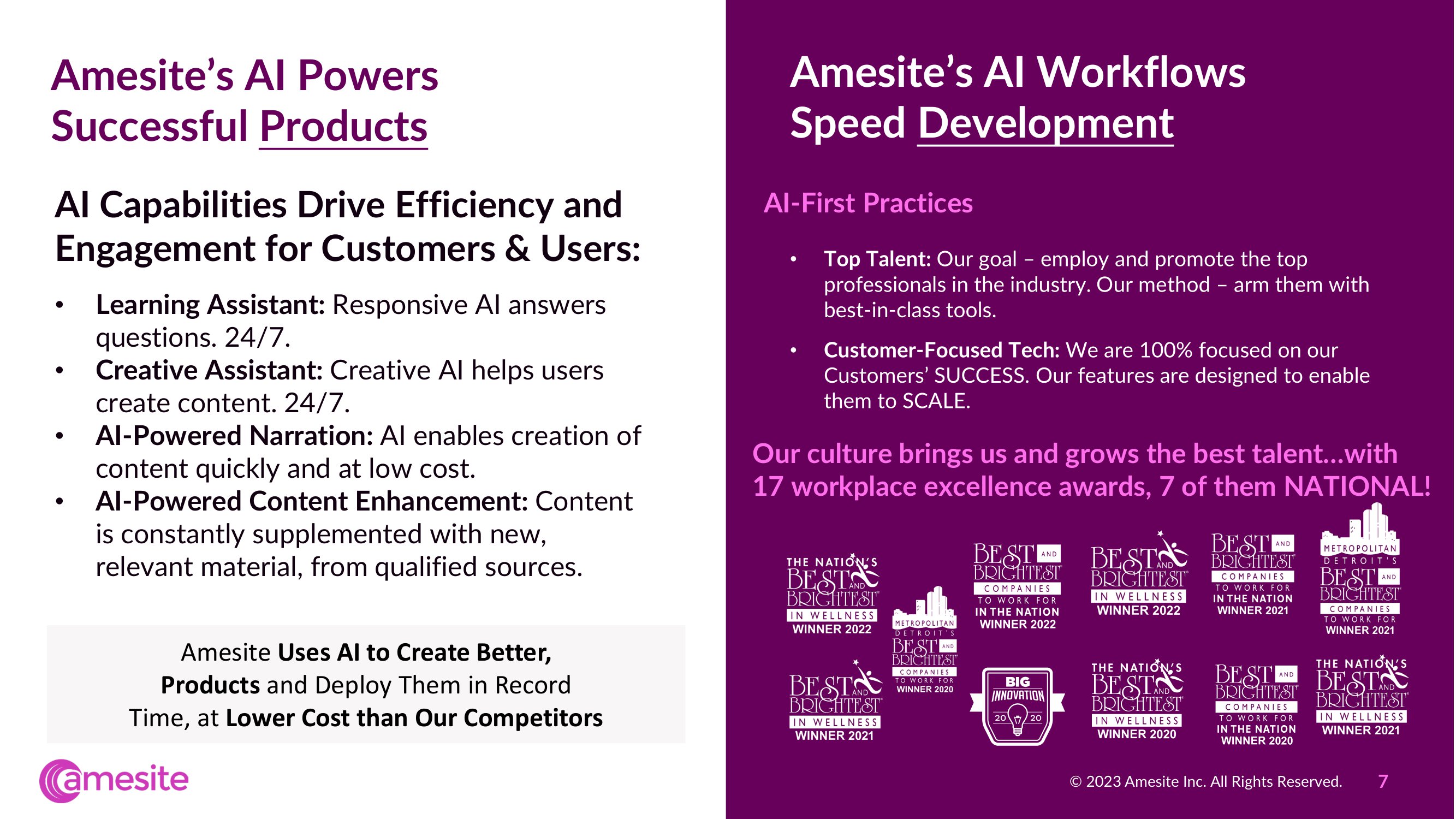 Amesite's AI Powers Successful Products AI Capabilities Drive Efficiency and Engagement for Customers & Users: Amesite's AI Workflows Speed Development © 2023 Amesite Inc. All Rights Reserved. 7 AI - First Practices • Top Talent: Our goal – employ and promote the top professionals in the industry. Our method – arm them with best - in - class tools. • Customer - Focused Tech: We are 100% focused on our Customers' SUCCESS. Our features are designed to enable them to SCALE. Our culture brings us and grows the best talent…with 17 workplace excellence awards, 7 of them NATIONAL! • Learning Assistant: Responsive AI answers questions. 24/7. • Creative Assistant: Creative AI helps users create content. 24/7. • AI - Powered Narration: AI enables creation of content quickly and at low cost. • AI - Powered Content Enhancement: Content is constantly supplemented with new, relevant material, from qualified sources. Amesite Uses AI to Create Better, Products and Deploy Them in Record Time, at Lower Cost than Our Competitors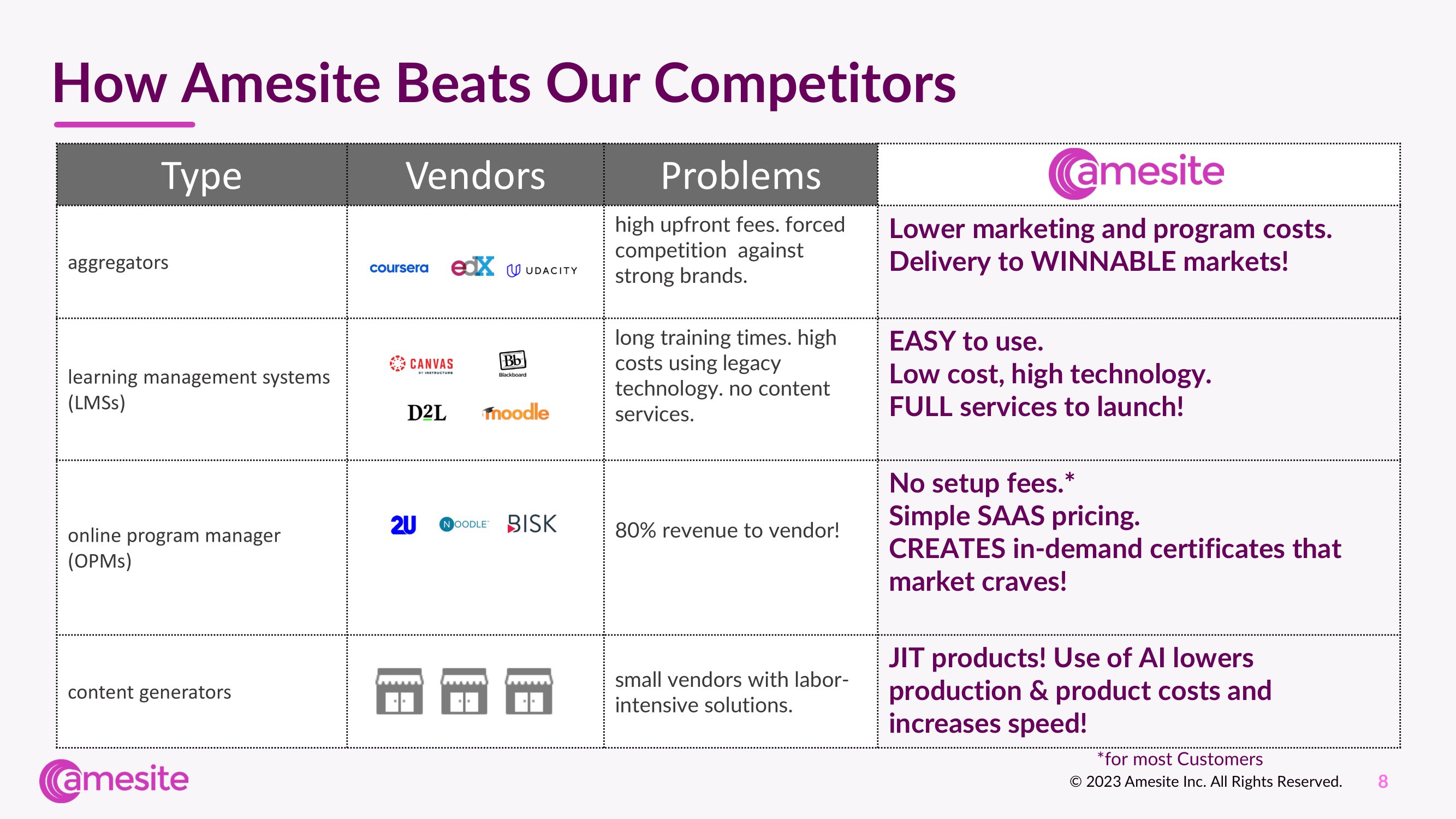 How Amesite Beats Our Competitors Problems Vendors Type Lower marketing and program costs. Delivery to WINNABLE markets! high upfront fees. forced competition against strong brands. aggregators EASY to use. Low cost, high technology. FULL services to launch! long training times. high costs using legacy technology. no content services. learning management systems (LMSs) No setup fees.* Simple SAAS pricing. CREATES in - demand certificates that market craves! 80% revenue to vendor! online program manager (OPMs) JIT products! Use of AI lowers production & product costs and increases speed! small vendors with labor - intensive solutions. content generators *for most Customers © 2023 Amesite Inc. All Rights Reserved. 8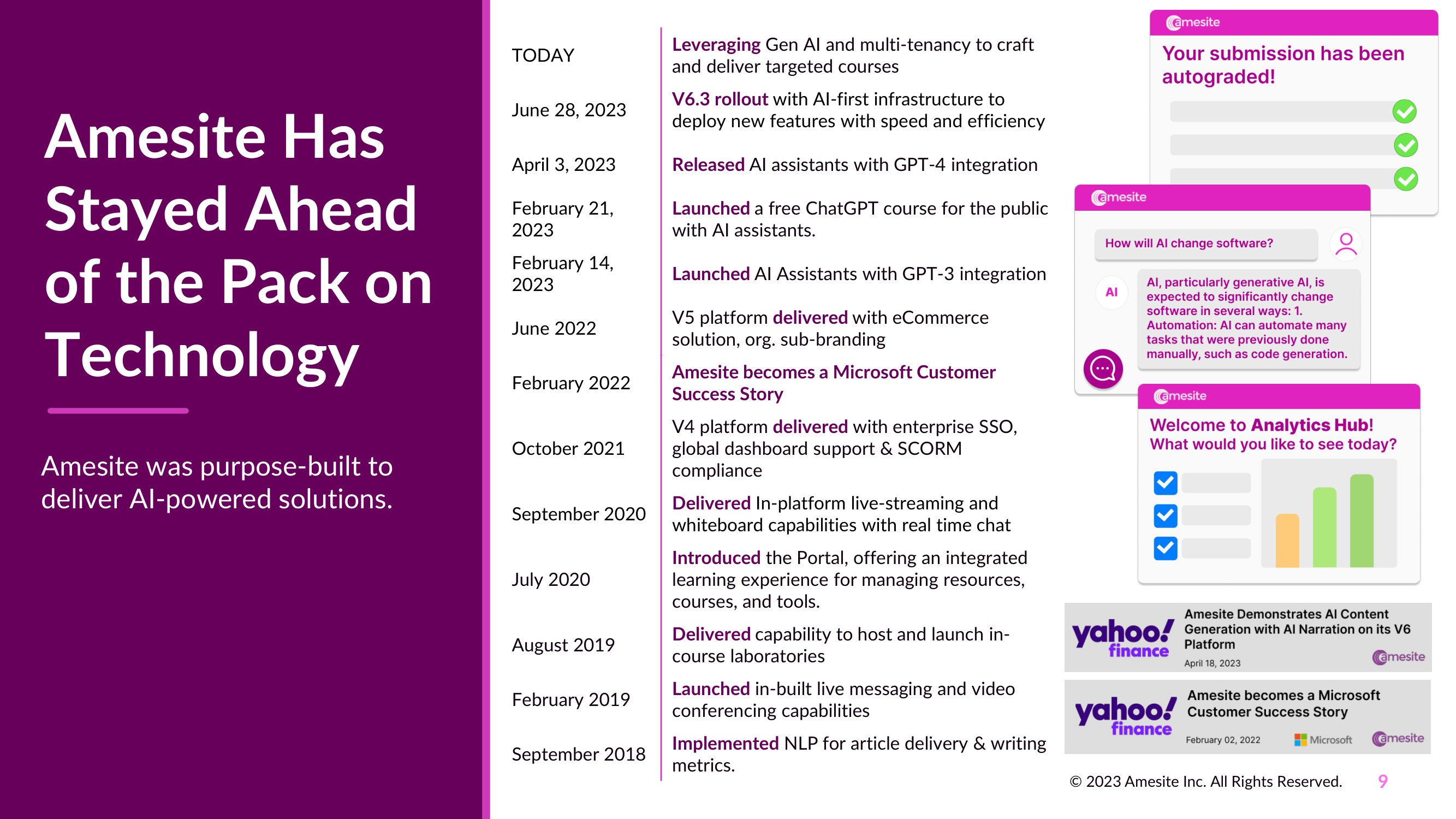 Amesite Has Stayed Ahead of the Pack on Technology Amesite was purpose - built to deliver AI - powered solutions. Leveraging Gen AI and multi - tenancy to craft and deliver targeted courses TODAY V6.3 rollout with AI - first infrastructure to deploy new features with speed and efficiency June 28, 2023 Released AI assistants with GPT - 4 integration April 3, 2023 Launched a free ChatGPT course for the public with AI assistants. February 21, 2023 Launched AI Assistants with GPT - 3 integration February 14, 2023 V5 platform delivered with eCommerce solution, org. sub - branding June 2022 Amesite becomes a Microsoft Customer Success Story February 2022 V4 platform delivered with enterprise SSO, global dashboard support & SCORM compliance October 2021 Delivered In - platform live - streaming and whiteboard capabilities with real time chat September 2020 Introduced the Portal, offering an integrated learning experience for managing resources, courses, and tools . July 2020 Delivered capability to host and launch in - course laboratories August 2019 Launched in - built live messaging and video conferencing capabilities February 2019 Implemented NLP for article delivery & writing metrics. September 2018 © 2023 Amesite Inc. All Rights Reserved. 9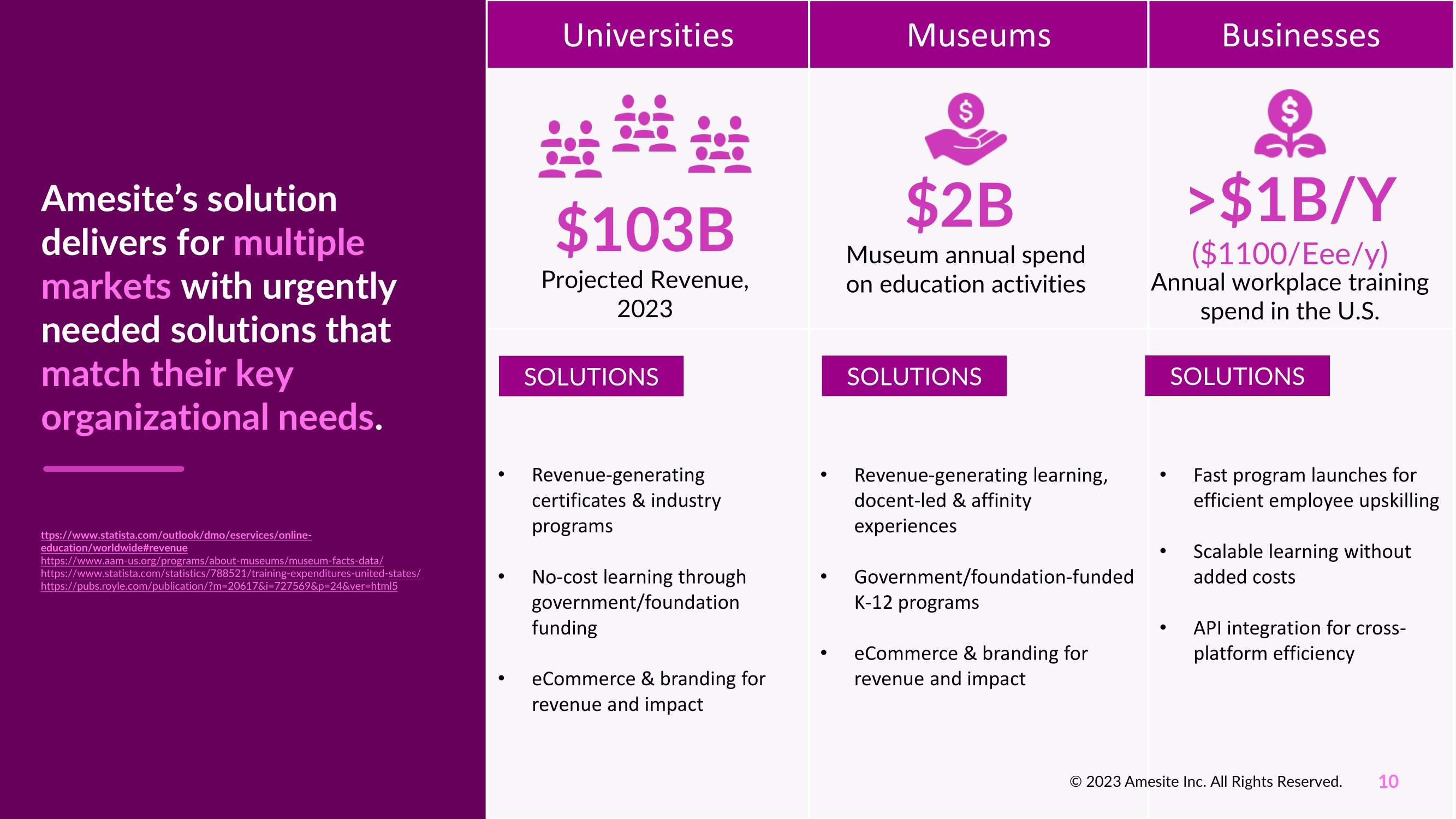 Amesite's solution delivers for multiple markets with urgently needed solutions that match their key organizational needs . ttps:// www.statista.com/outlook/dmo/eservices/online - education/worldwide#revenue https://www.aam - us.org/programs/about - museums/museum - facts - data/ https://www.statista.com/statistics/788521/training - expenditures - united - states/ https://pubs.royle.com/publication/?m=20617&i=727569&p=24&ver=html5 Businesses Museums Universities >$1B/Y ($1100/Eee/y) Annual workplace training spend in the U.S. $2B Museum annual spend on education activities $103B Projected Revenue, 2023 SOLUTIONS SOLUTIONS SOLUTIONS • Fast program launches for efficient employee upskilling • Scalable learning without added costs • API integration for cross - platform efficiency • Revenue - generating learning, docent - led & affinity experiences • Government/foundation - funded K - 12 programs • eCommerce & branding for revenue and impact • Revenue - generating certificates & industry programs • No - cost learning through government/foundation funding • eCommerce & branding for revenue and impact © 2023 Amesite Inc. All Rights Reserved. 10
Path to Profitability: Scaling Customer Users + Multi - Institution Deals Product Concepts and Early Adopter Customers Building Whole - Enterprise Capability Scalable Revenue with Existing Customers – and New Multi - Institution Customers BREAKING NEWS Biden signs $1.7 trillion government spending bill into law BREAKING NEWS Senate passes $280 billion chip manufacturing bill AMESITE STORY Essential e - learning ecosystems move to the head of the class AMESITE STORY EdTech Company Amesite CEO Sits Down With Benzinga To Discuss 2022 Successes And The Vision For 2023 – Building A Promising Future Of AI In Learning AMESITE NEWS Amesite Inc. Announces Closing of Initial Public Offering AMESITE NEWS Amesite CEO Dr . Ann Marie Sastry Appeared on "Mornings With Maria" 2018 2019 2020 2021 2022 2023 COVID © 2023 Amesite Inc. All Rights Reserved. 11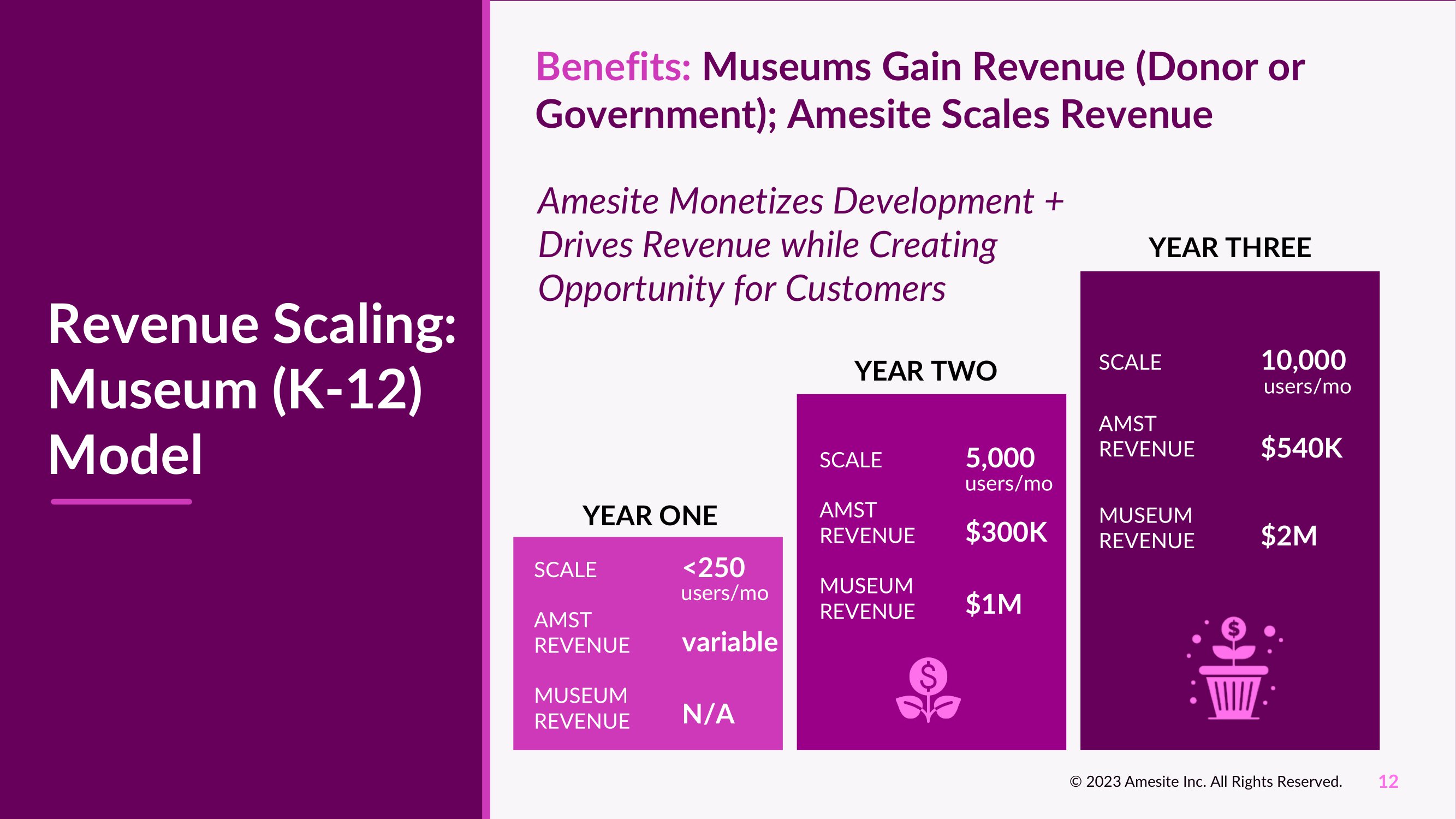 Benefits: Museums Gain Revenue (Donor or Government); Amesite Scales Revenue YEAR ONE YEAR TWO YEAR THREE SCALE AMST REVENUE MUSEUM REVENUE N/A SCALE AMST REVENUE MUSEUM REVENUE $1M SCALE MUSEUM REVENUE AMST REVENUE $540K $2M Amesite Monetizes Development + Drives Revenue while Creating Opportunity for Customers Revenue Scaling: Museum (K - 12) Model 5,000 users/mo $300K © 2023 Amesite Inc. All Rights Reserved. 12 10,000 users/mo <250 users/mo variable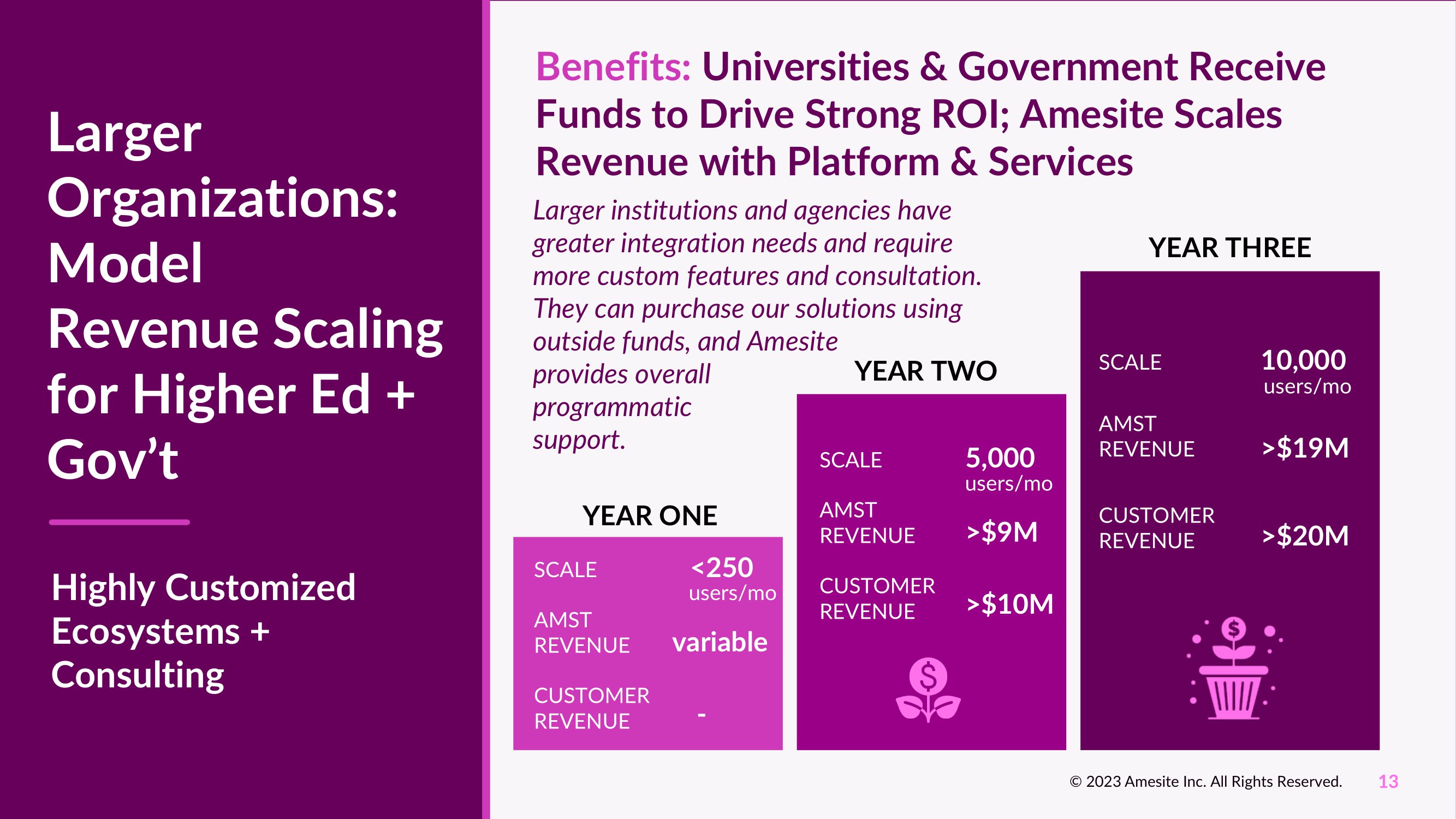 Benefits: Universities & Government Receive Funds to Drive Strong ROI; Amesite Scales Revenue with Platform & Services YEAR ONE YEAR TWO YEAR THREE SCALE AMST REVENUE CUSTOMER REVENUE - SCALE AMST REVENUE CUSTOMER REVENUE >$10M SCALE CUSTOMER REVENUE AMST REVENUE >$19M >$20M Larger institutions and agencies have greater integration needs and require more custom features and consultation. They can purchase our solutions using outside funds, and Amesite provides overall programmatic support. 5,000 users/mo >$9M © 2023 Amesite Inc. All Rights Reserved. 13 10,000 users/mo <250 users/mo variable Highly Customized Ecosystems + Consulting Larger Organizations: Model Revenue Scaling for Higher Ed + Gov't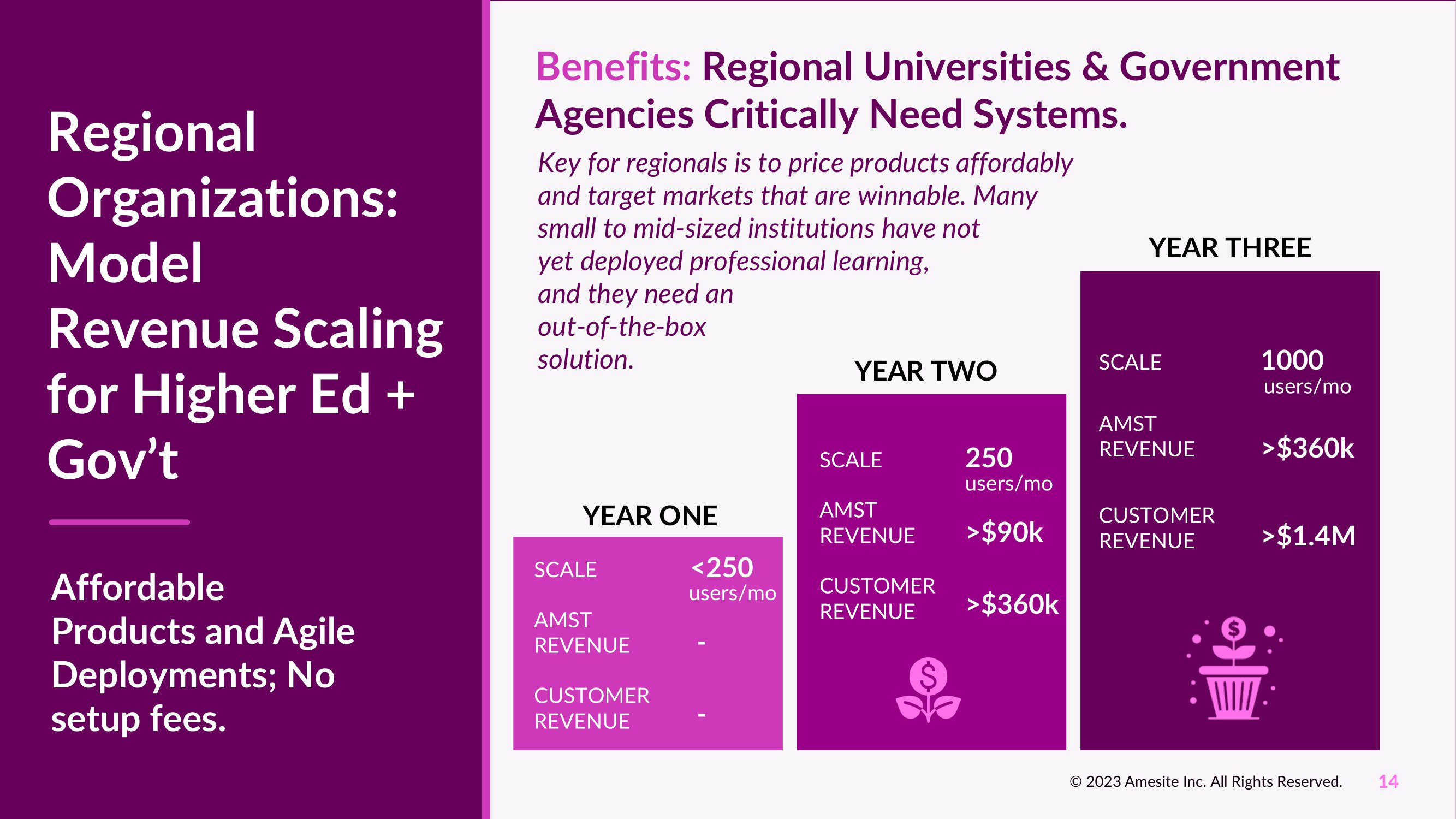 Benefits: Regional Universities & Government Agencies Critically Need Systems. YEAR ONE YEAR TWO YEAR THREE SCALE AMST REVENUE CUSTOMER REVENUE - - SCALE AMST REVENUE CUSTOMER REVENUE >$360k SCALE CUSTOMER REVENUE AMST REVENUE >$360k >$1.4M Key for regionals is to price products affordably and target markets that are winnable. Many small to mid - sized institutions have not yet deployed professional learning, and they need an out - of - the - box solution. Regional Organizations: Model Revenue Scaling for Higher Ed + Gov't 250 users/mo >$90k © 2023 Amesite Inc. All Rights Reserved. 14 1000 users/mo <250 users/mo Affordable Products and Agile Deployments; No setup fees.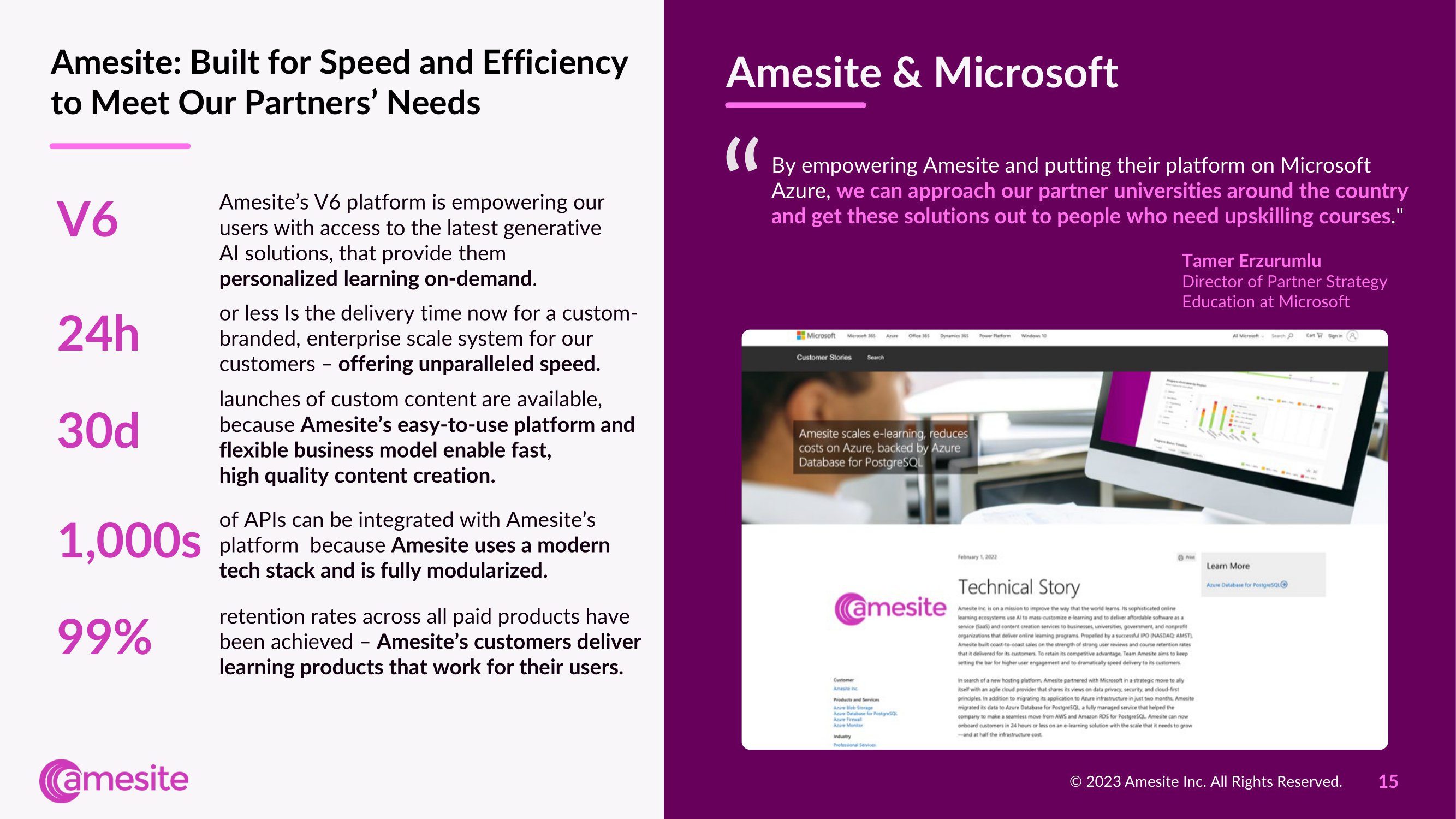 " By empowering Amesite and putting their platform on Microsoft Azure, we can approach our partner universities around the country and get these solutions out to people who need upskilling courses ." Tamer Erzurumlu Director of Partner Strategy Education at Microsoft 24h 30d V6 Amesite's V6 platform is empowering our users with access to the latest generative AI solutions, that provide them personalized learning on - demand . or less Is the delivery time now for a custom - branded, enterprise scale system for our customers – offering unparalleled speed. launches of custom content are available, because Amesite's easy - to - use platform and flexible business model enable fast, high quality content creation. of APIs can be integrated with Amesite's platform because Amesite uses a modern tech stack and is fully modularized. retention rates across all paid products have been achieved – Amesite's customers deliver learning products that work for their users. 1,000s 99% Amesite: Built for Speed and Efficiency to Meet Our Partners' Needs © 2023 Amesite Inc. All Rights Reserved. 15 Amesite & Microsoft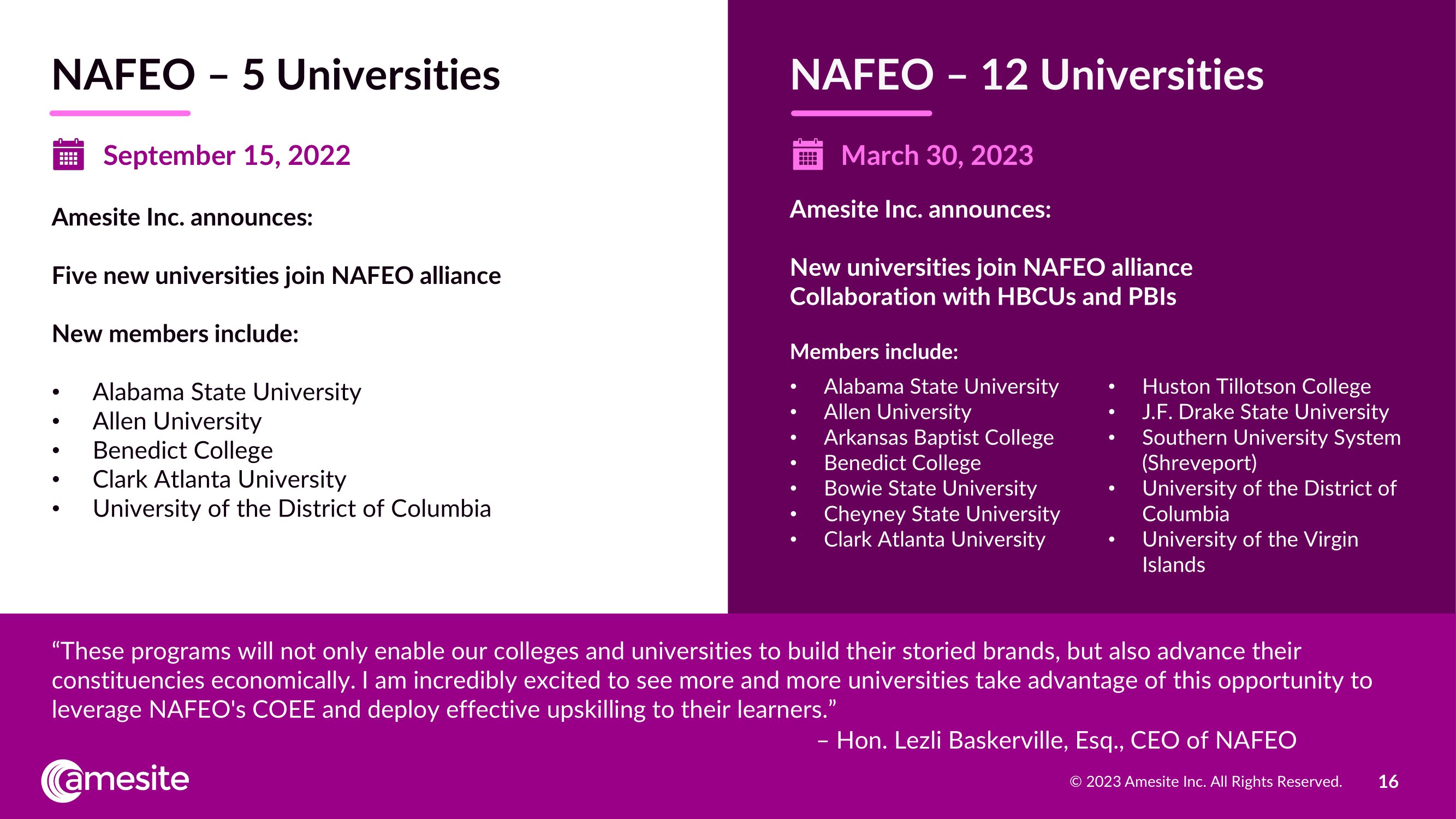 NAFEO – 5 Universities NAFEO – 12 Universities Amesite Inc. announces: Five new universities join NAFEO alliance New members include: • Alabama State University • Allen University • Benedict College • Clark Atlanta University • University of the District of Columbia New universities join NAFEO alliance Collaboration with HBCUs and PBIs • Huston Tillotson College • J.F. Drake State University • Southern University System (Shreveport) • University of the District of Columbia • University of the Virgin Islands Members include: • Alabama State University • Allen University • Arkansas Baptist College • Benedict College • Bowie State University • Cheyney State University • Clark Atlanta University September 15, 2022 March 30, 2023 Amesite Inc. announces: "These programs will not only enable our colleges and universities to build their storied brands, but also advance their constituencies economically. I am incredibly excited to see more and more universities take advantage of this opportunity to leverage NAFEO's COEE and deploy effective upskilling to their learners." – Hon. Lezli Baskerville, Esq., CEO of NAFEO © 2023 Amesite Inc. All Rights Reserved. 16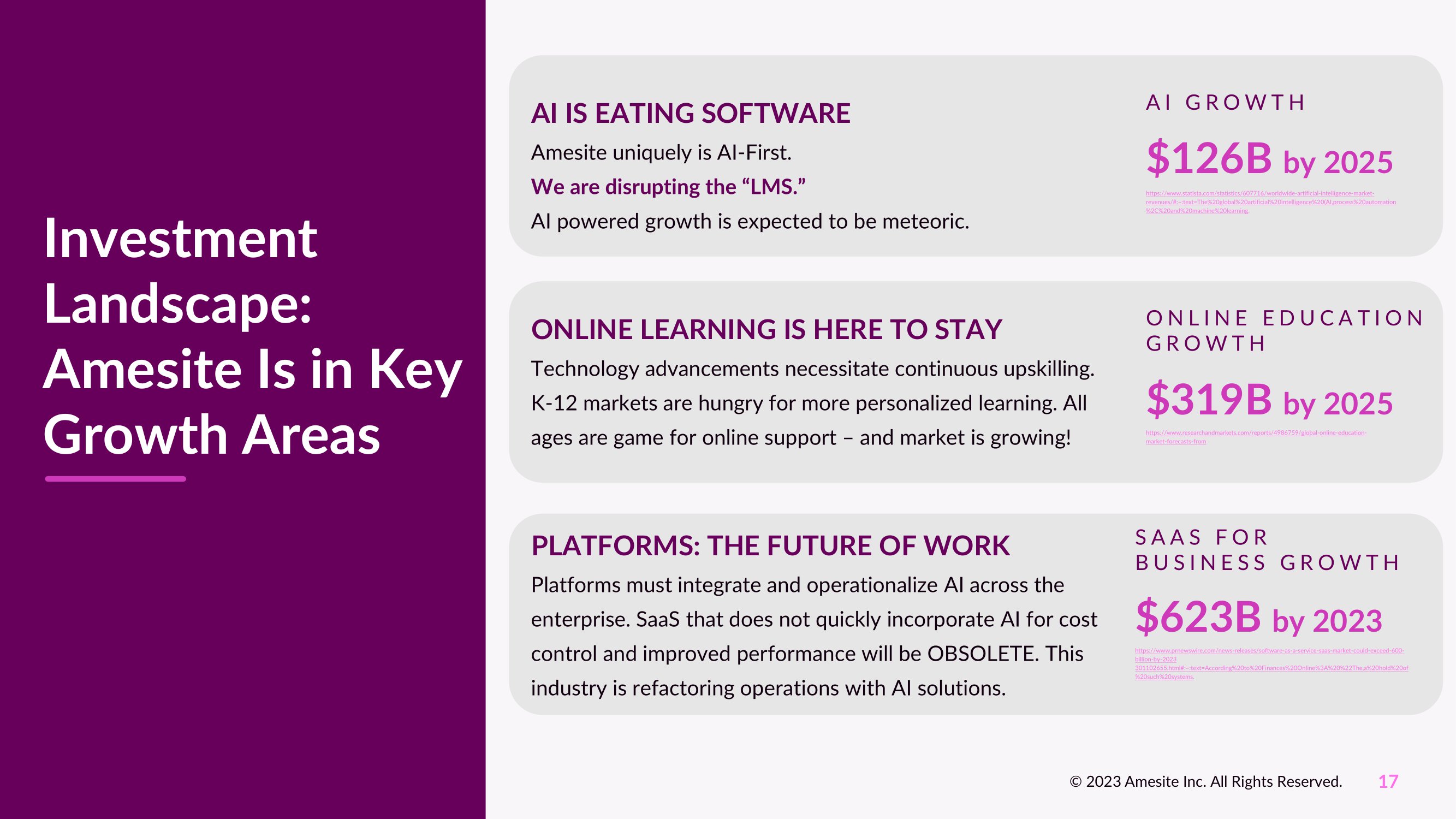 AI IS EATING SOFTWARE Amesite uniquely is AI - First. We are disrupting the "LMS." AI powered growth is expected to be meteoric. ONLINE LEARNING IS HERE TO STAY Technology advancements necessitate continuous upskilling. K - 12 markets are hungry for more personalized learning. All ages are game for online support – and market is growing! PLATFORMS: THE FUTURE OF WORK Platforms must integrate and operationalize AI across the enterprise. SaaS that does not quickly incorporate AI for cost control and improved performance will be OBSOLETE. This industry is refactoring operations with AI solutions. A I GR O WT H $126B by 2025 https:// www.statista.com/statistics/607716/worldwide - artificial - intelligence - market - revenues/#:~:text=The%20global%20artificial%20intelligence%20(AI,process%20automation %2C%20and%20machine%20learning . O N L I N E E D U CAT I O N G R O W T H $319B by 2025 https://www.researchandmarkets.com/reports/4986759/global - online - education - market - forecasts - from S AAS FO R B USI N E SS G R O W T H $623B by 2023 https://www.prnewswire.com/news - releases/software - as - a - service - saas - market - could - exceed - 600 - billion - by - 2023 301102655.html#:~:text=According%20to%20Finances%20Online%3A%20%22The,a%20hold%20o f %20such%20system s. Investment Landscape: Amesite Is in Key Growth Areas © 2023 Amesite Inc. All Rights Reserved. 17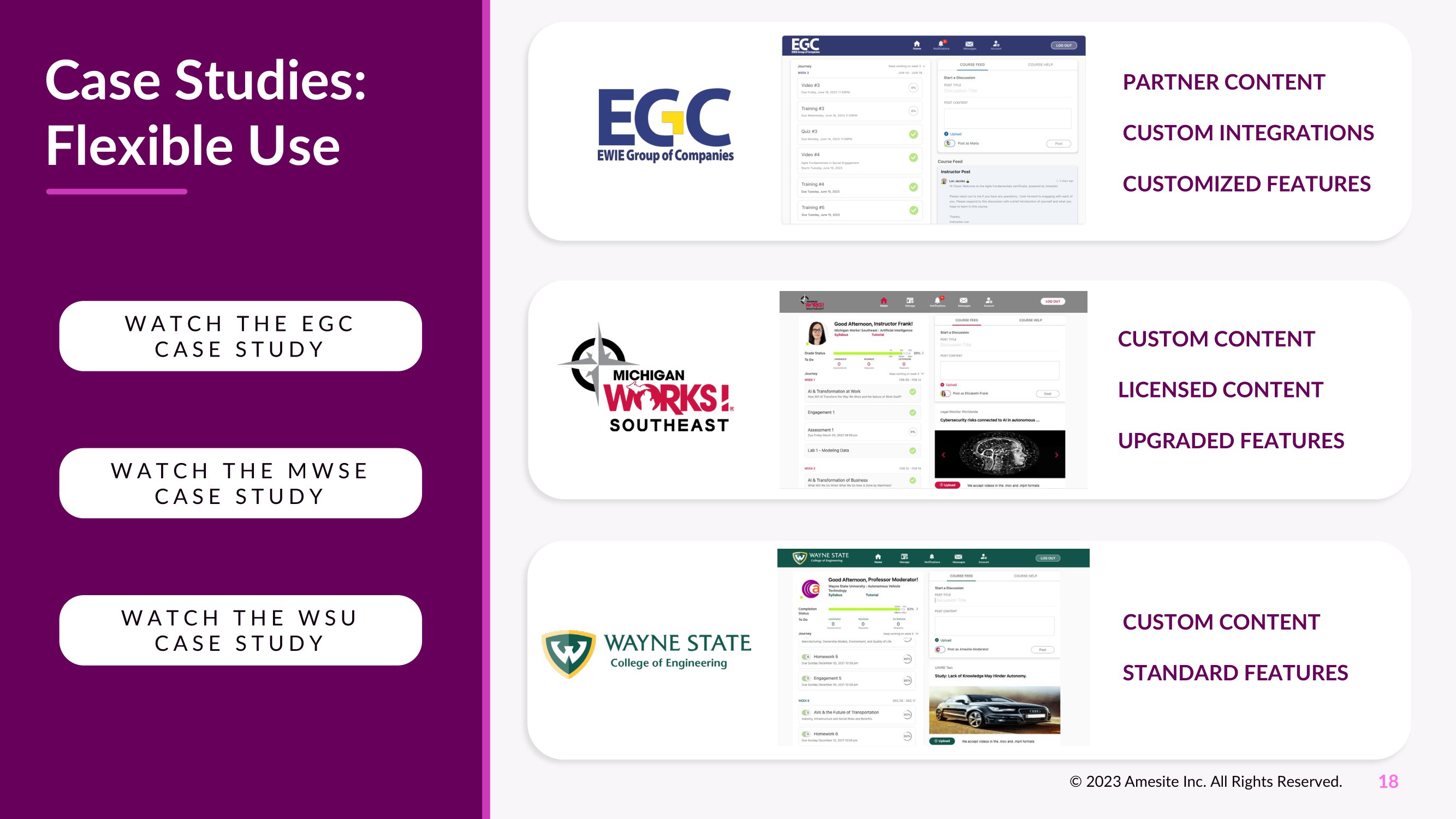 Case Studies: Flexible Use PARTNER CONTENT CUSTOM INTEGRATIONS CUSTOMIZED FEATURES CUSTOM CONTENT LICENSED CONTENT UPGRADED FEATURES CUSTOM CONTENT STANDARD FEATURES W AT CH T H E E G C C A SE ST UD Y W A T C H T H E M W SE C A SE ST UD Y W A T C H T H E W SU C A SE ST UD Y © 2023 Amesite Inc. All Rights Reserved. 18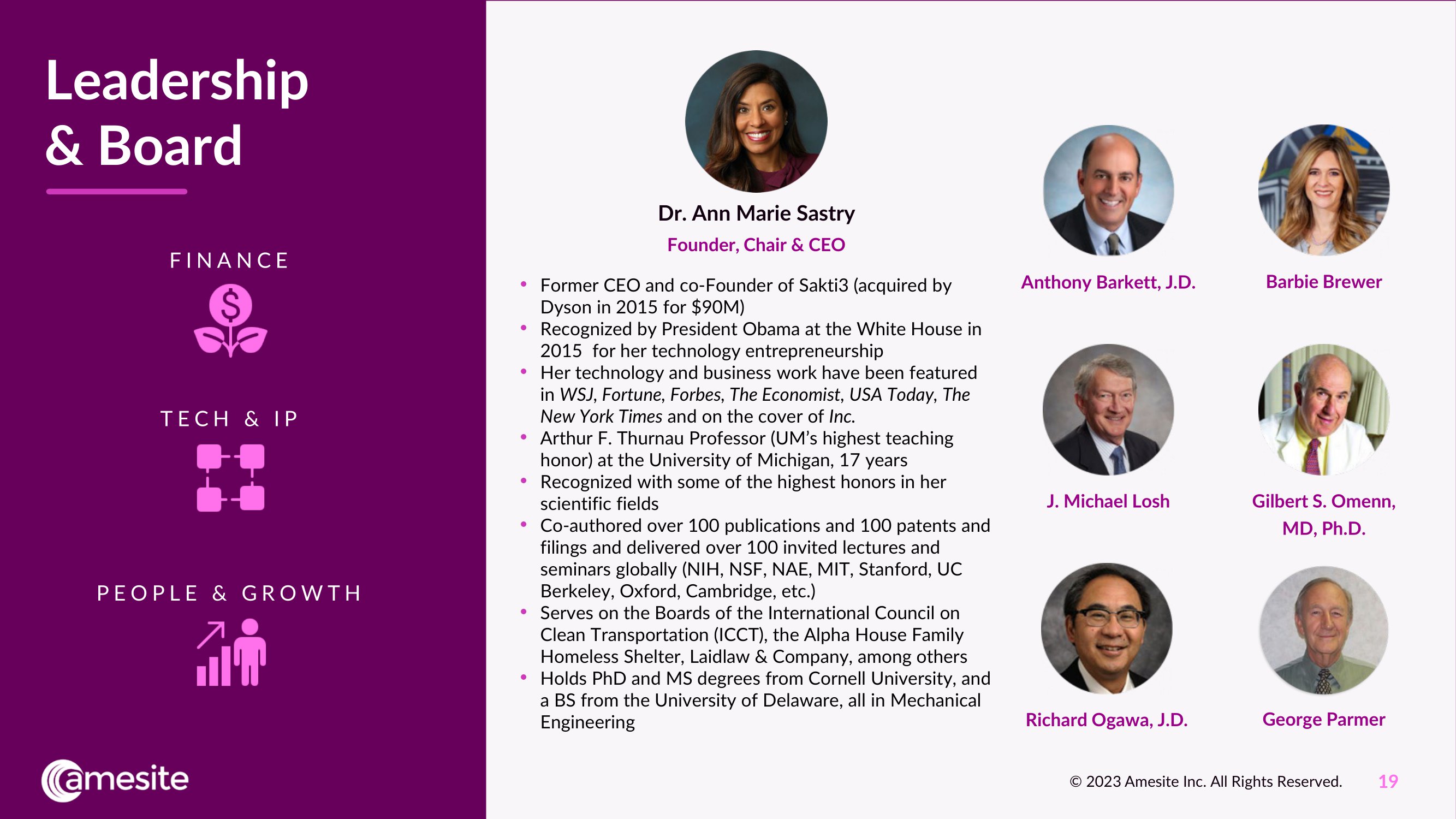 T E C H & I P FI N AN CE PE O PL E & G RO W T H Anthony Barkett, J.D. Barbie Brewer J. Michael Losh Richard Ogawa, J.D. Gilbert S. Omenn, MD, Ph.D. George Parmer Dr. Ann Marie Sastry Founder, Chair & CEO • Former CEO and co - Founder of Sakti3 (acquired by Dyson in 2015 for $90M) • Recognized by President Obama at the White House in 2015 for her technology entrepreneurship • Her technology and business work have been featured in WSJ, Fortune, Forbes, The Economist, USA Today, The New York Times and on the cover of Inc. • Arthur F. Thurnau Professor (UM's highest teaching honor) at the University of Michigan, 17 years • Recognized with some of the highest honors in her scientific fields • Co - authored over 100 publications and 100 patents and filings and delivered over 100 invited lectures and seminars globally (NIH, NSF, NAE, MIT, Stanford, UC Berkeley, Oxford, Cambridge, etc.) • Serves on the Boards of the International Council on Clean Transportation (ICCT), the Alpha House Family Homeless Shelter, Laidlaw & Company, among others • Holds PhD and MS degrees from Cornell University, and a BS from the University of Delaware, all in Mechanical Engineering Leadership & Board © 2023 Amesite Inc. All Rights Reserved. 19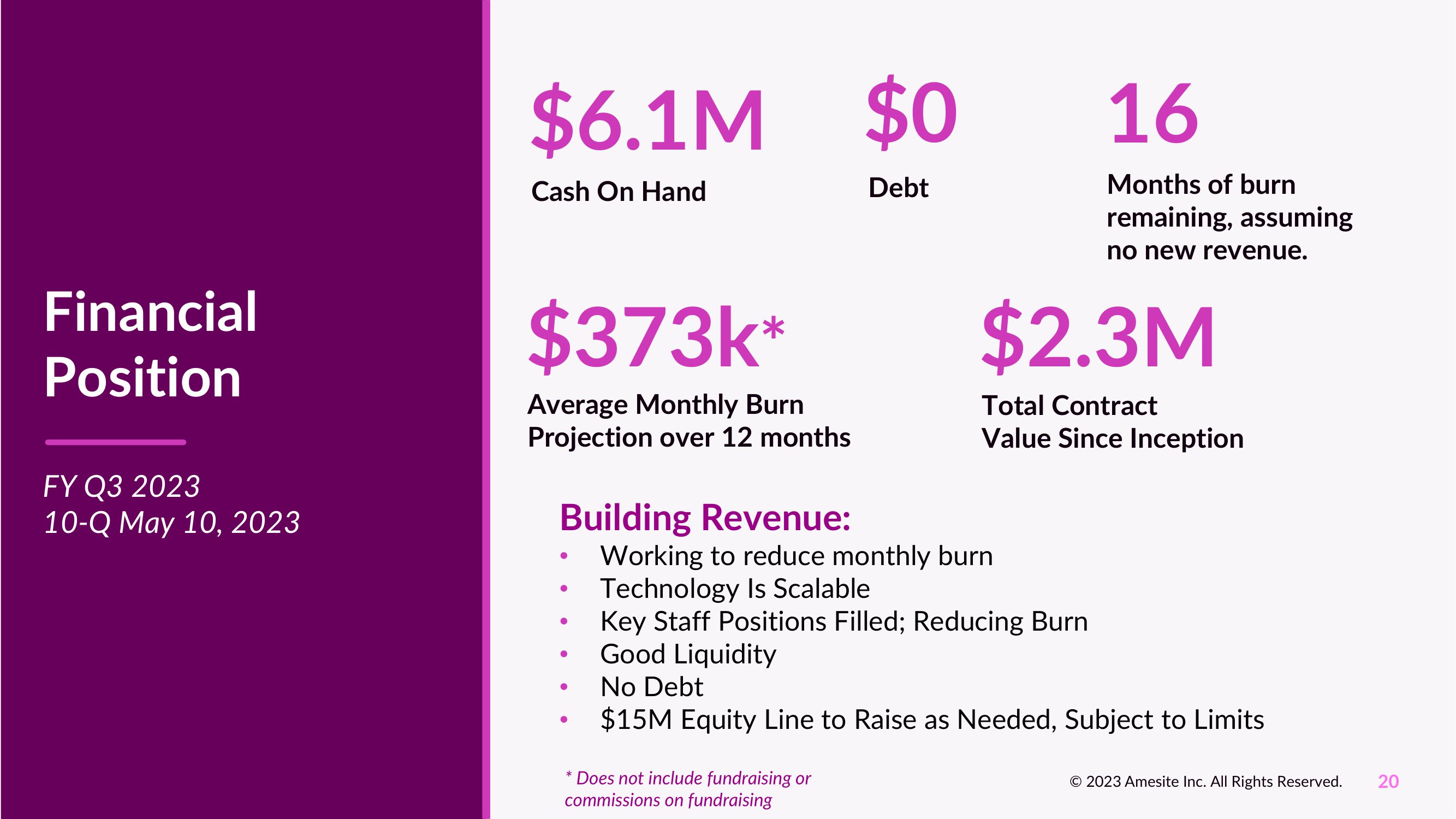 20 Financial Position $373k * Average Monthly Burn Projection over 12 months $6.1M Cash On Hand © 2023 Amesite Inc. All Rights Reserved. FY Q3 2023 10 - Q May 10, 2023 Building Revenue: • Working to reduce monthly burn • Technology Is Scalable • Key Staff Positions Filled; Reducing Burn • Good Liquidity • No Debt • $15M Equity Line to Raise as Needed, Subject to Limits * Does not include fundraising or commissions on fundraising Debt Months of burn remaining, assuming no new revenue. $2.3M Total Contract Value Since Inception $0 16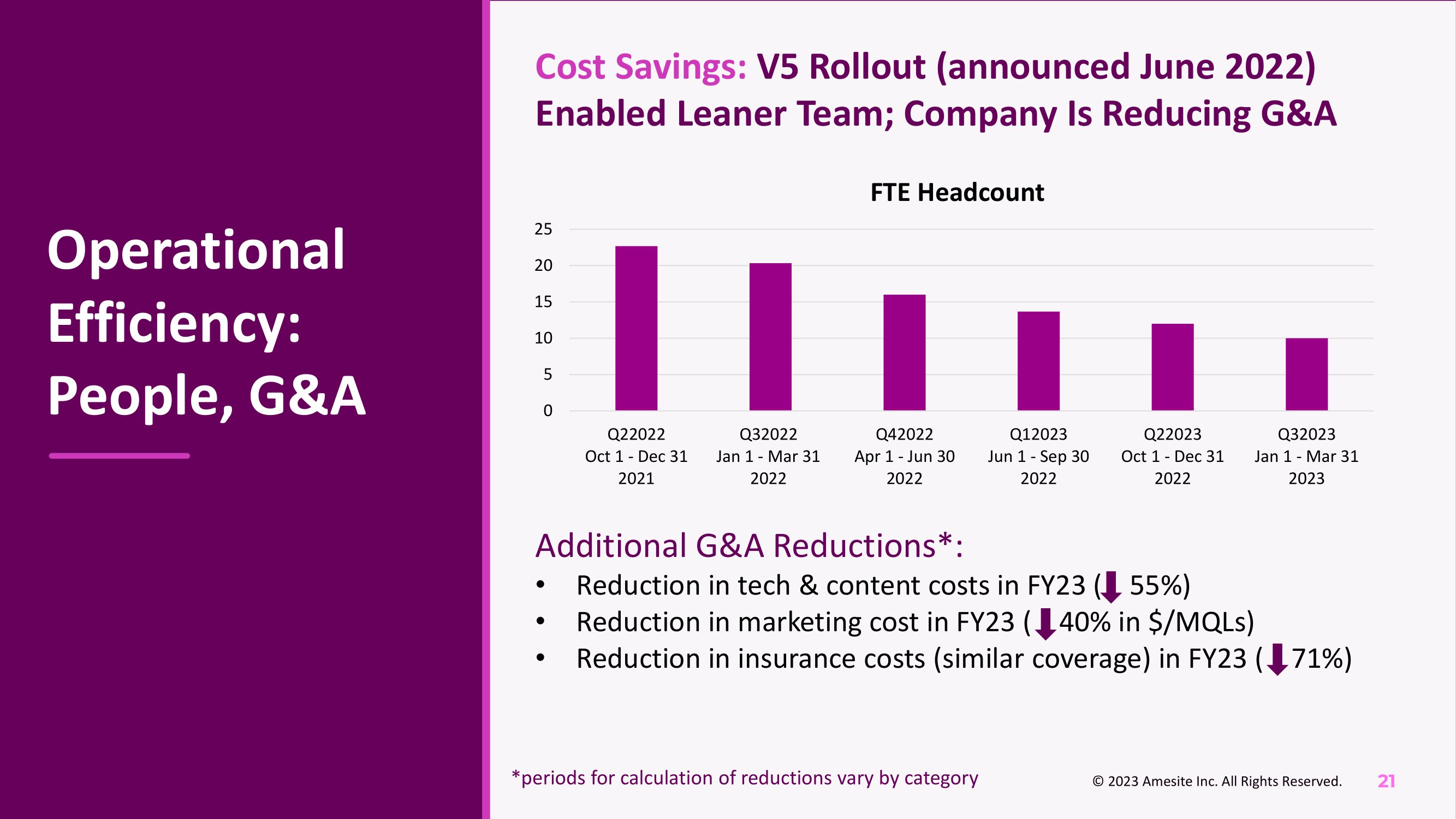 21 Cost Savings: V5 Rollout (announced June 2022) Enabled Leaner Team; Company Is Reducing G&A © 2023 Amesite Inc. All Rights Reserved. Operational Efficiency: People, G&A Additional G&A Reductions*: • Reduction in tech & content costs in FY23 ( 55%) • Reduction in marketing cost in FY23 ( 40% in $/MQLs) • Reduction in insurance costs (similar coverage) in FY23 ( 71%) *periods for calculation of reductions vary by category 0 5 10 15 20 25 Q22022 Oct 1 - Dec 31 2021 Q32022 Jan 1 - Mar 31 2022 Q42022 Apr 1 - Jun 30 2022 Q12023 Jun 1 - Sep 30 2022 Q22023 Oct 1 - Dec 31 2022 Q32023 Jan 1 - Mar 31 2023 FTE Headcount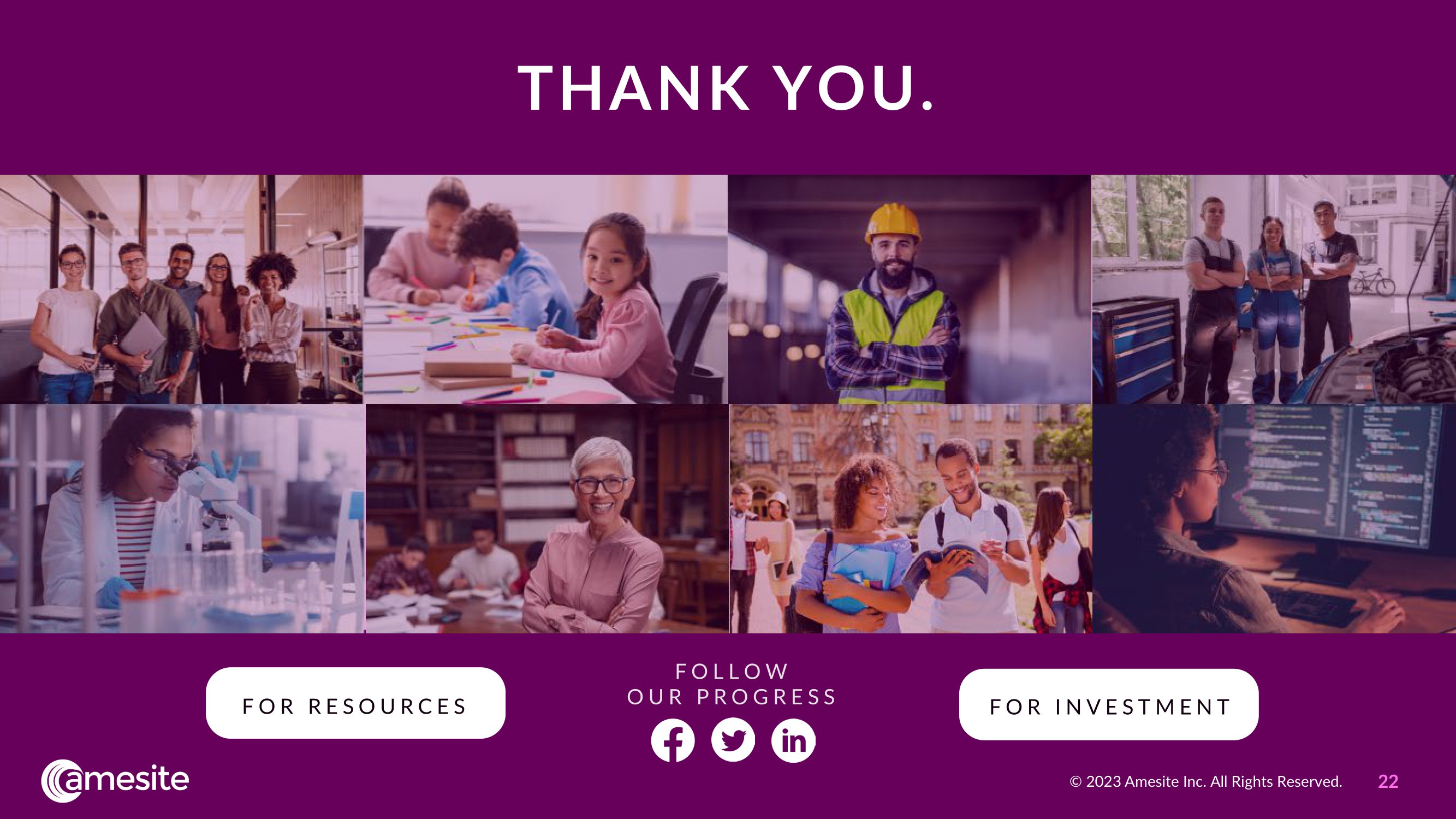 THANK YOU. FO L L O W O U R PRO G RE S S F OR R ES OU R C ES F O R I NV E S T M E NT © 2023 Amesite Inc. All Rights Reserved. 22